CaliforniaDollar (CAD) Becomes World's First ICO to Provide Insurance Policy and Satisfaction Guaranteed Service to Its Investors.

The innovative step taken by CAD for the protection of investments makes it the most guarded ICO of the world.
Pre-ICO will begin on October 28, 2018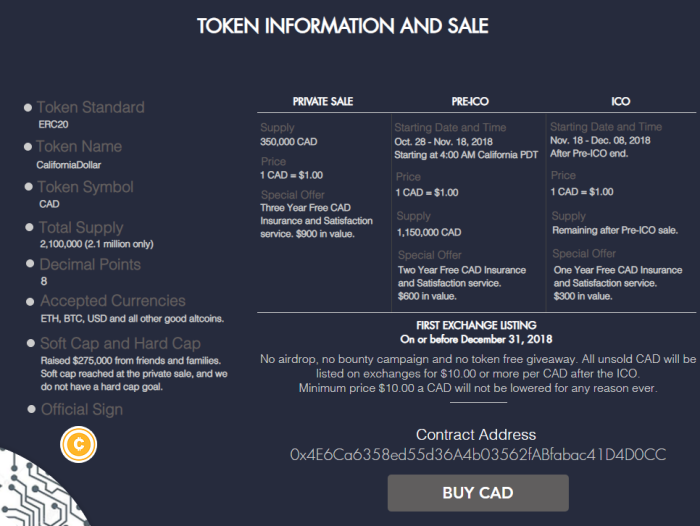 IMMEDIATE RELEASE
What does crypto investors want in an ICO? Two things!
First, the assurance that their investment is protected and they will not lose money.
Secondly, the satisfaction of getting their invested amount back through a refund at any time they want.
These are the two primary benefits that attract investors towards an ICO or PRE-ICO, and CaliforniaDollar (CAD) has both of these advantages making it the first insured and satisfaction guaranteed ICO in the whole Blockchain technology.
CAD provides an insurance policy that allows investors to protect their investments.
The policy is designed to protect the Pre-ICO and ICO investments in the CAD.
This means that investor's original investment will be 100% covered in original mode of payment against any type value depreciation in CalifornaDollar (CAD). This means that if someone bought CAD by paying through BTC, they would get back 100 percent of the amount of BTC invested.
The risks that this policy covers include the depreciation in the value of CAD, online theft and loss of CAD due to technical issues in ERC20.
CAD investors just need to apply for the policy, and they will be covered.
Moreover, it provides Satisfaction Guaranteed service that delivers peace of mind to its ICO and PRE-ICO investors.
The service is simple and has no strings attached to it.
If an investor wants to get a refund for the CAD he purchased, he will be immediately given the reimbursement in the same currency he used to purchase the CAD. This protects the amount invested in CAD, delivers peace of mind and protects the integrity of the CAD project.
Investors can apply for this service once they invest in CAD.
It is no surprise that the cryptocurrency investors are getting more reticent to take part in public crowd-sales.
This is because, in the small time of just first four months of 2018, some of the worst scams and frauds have been committed.
First Bitconnect pulled off a Ponzi-turned exit scheme in January 2018.
Then LoopX pulled a $4.5 million scam in ICO funds in February 2018.
And Since April 2018, Vietnam is investigating two ICOs that may have taken $660 million of investors.
These scams have resulted in less trust in ICOs and CAD is here to change all of that.
With its airtight insurance policy and innovative Satisfaction Guaranteed service, people will have the liberty to invest in a decentralized currency with 100 percent safety and satisfaction.

"Modern decentralization is the evolution of freedom and democracy of the 20th century"

- Founder of CaliforniaDollar.

To know more about the CaliforniaDollar or to procure the CAD through PRE-ICO visit the website https://www.californiadollar.com or contact via contact at californiadollar.com.
About CaliforniaDollar
CAD introduces a brand new and innovative idea of having futuristic machines which will use values of cryptocurrencies as a source of e-fuel to stay digitally alive. They aim to make CAD a highly valuable and long lasting e-fuel source on ERC20 blockchain technology among other major cryptocurrencies, such as Bitcoin and Ethereum, by making it an active player in the market. This is the world first insured and satisfaction guaranteed ICO ever.

Media Contact:
Company Name: CaliforniaDollar (CAD) Startup
Email: [email protected]
Website: https://www.californiadollar.com
This is a paid press release, which contains forward looking statements, and should be treated as advertising or promotional material. Bitrss.com does not endorse or support this product/service. Bitrss.com is not responsible for or liable for any content, accuracy or quality within the press release.