Today we are talking about a Service new and unique.
A website that will most likely revolutionize the way of approaching users and investors, in the field of Initial Coin Offering.
There is no such service yet in the world; in a fierce and complex market such as that of criptocurrencies, the numbers speak.
And it is good, before investing have as much information as possible

ICO Catalog, introduces an advanced way of looking at this type of investments, introducing parameters not only financial or informative, but also of a technical nature such as SEO, page traffic, user involvement, mentions on the web.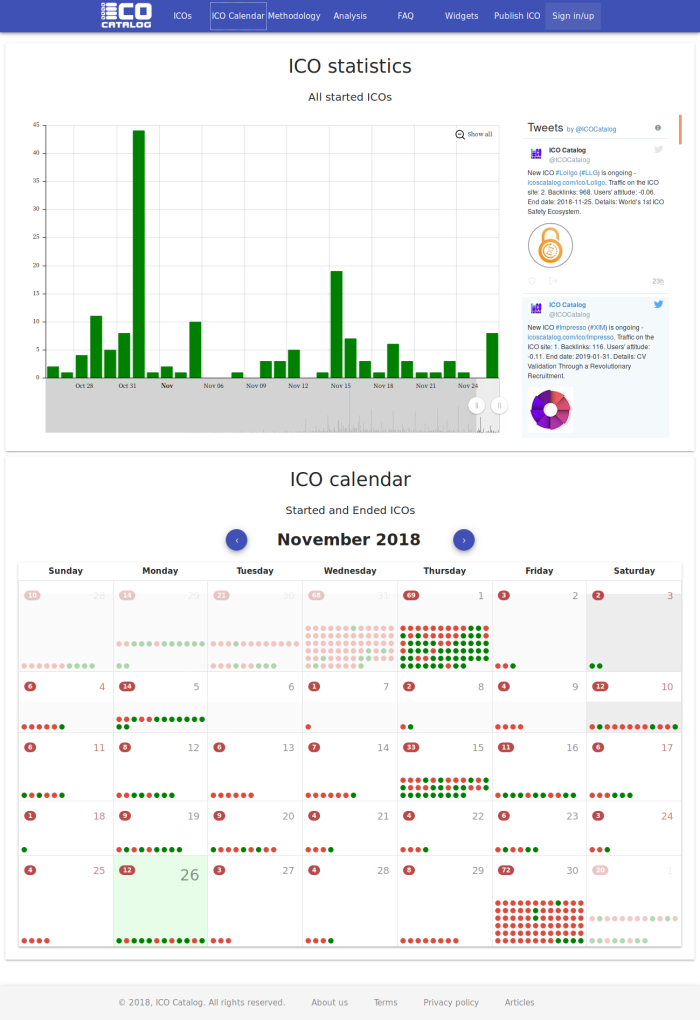 A way not at all obvious, to understand if an ICO is actually attracting attention and of course investments; the ICO is a tool for attracting capital by investing in startups associated with the development or promotion of any technology platform service associated with cryptocurrency.

As has been verified for some years now, this type of investment has had a real boom not only for the ability to generate profits or to create and finance new projects very quickly, but also for the difficulty of identifying real projects, instead junk.

It follows that the economic risk in this type of transaction is extremely high; but today there is one more weapon with ICO Catalog, able to identify these ICOs in a more objective way.
Back-end ICO Catalog servers receive and process ICO information around the clock.
As the great Leonardo da Vinci wrote, «No human investigation can be called real science if it cannot be demonstrated mathematically».
ICO Catalog apply this reasoning in practice and try to assess the influence of parameters, which we can obtain, on the success level of ICO.
Newly appearing ICOs are added once a day.
Information on the number of messages is updated 4 times a day.
Information on Evaluation, Activity and Potency is updated 4 times a day.
Information on Traffic and Backlinks is updated every 7 days for ICO.

ICO Catalog will help you choose the most promising project for ICO; moreover, it is not only an important help for investors, but also for creators.
The publication and presentation of new ICOs is allowed, with the possibility of adding a considerable amount of technical and financial information.
ICO Catalog introduces a practical tool generator that allows you to create an updated widget that shows the real-time statistics of the ICO project.
Source: https://icoscatalog.com
Methodology: https://icoscatalog.com/ico/methodology
This is a paid press release, which contains forward looking statements, and should be treated as advertising or promotional material. Bitrss.com does not endorse or support this product/service. Bitrss.com is not responsible for or liable for any content, accuracy or quality within the press release.