Over the years we have seen a notable increase in technology, which follows the evolution of the world of cryptocurrencies.
Steps necessary to obtain the necessary stability and possibility for users to use.
In a world where crypto exchange monopolize uses and methods, today we are talking about a substantial novelty that revolutionizes the concept itself.
Let's talk about Swap.Online, where features like atomic swap and atomic transaction are introduced; a system that allows the use of a decentralized cross-chain wallet based on the Atomic Swap technology.

At the base of a cross-chain wallet there are several factors, which make it unique and innovative.
First of all, it is not necessary to use or register with a exchanger or wallet provider.
All the Users in fact, instantly get the keys to use, through their browser, so no additional installations or downloads are required.
Speed ​​of use, multi-usability, security are concepts that are screamed by practically all today's systems, but that still require the sharing of personal data, the obligation of constant monitoring for transactions and exchanges, times and terms established by exchangers.

With Swap.online all these operations are carried out by your browser, and the use of atomic swap technology guarantees its integrity, security and ease of use. The Swap.Online service is fully decentralized as (because) all the operations with tokens are executed via the IPFS network.
The Wallet Swap.online therefore becomes the natural choice, in order to make transactions between different cryptocurrencies and blockchains.
These are features that have always been linked to third parties, the exchanger, with costs of use and fees that limit its use.
In this case, however, each user can make transactions and exchanges between different cryptocurrencies using a real multi-chain integration, with a decentralized order book, no third party involved in the exchange, no proxy-token and no token wrapping and no charges or commisions for the order making and taking.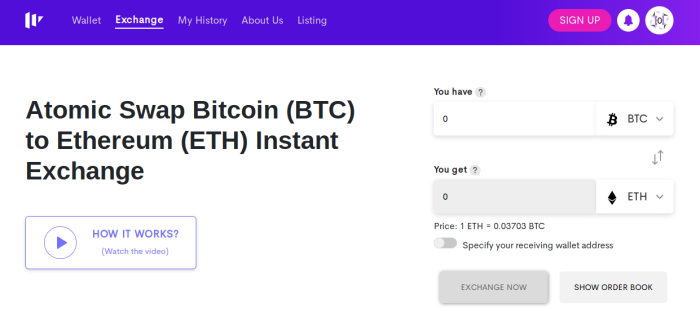 So, in summary, what are we talking about?
Let's talk about Swap.Online a real multi-cryptocurrency wallet that works directly from your browser.
You do not need to download anything, just go to Swap.Online.

The main feature of Swap.Online wallet, the built-in p2p exchange.
Atomic Swap, that is to say, can exchange cryptocurrencies between different blockchains and set their own exchange rate (e.g. Bitcoin and Ethereum) without the involvement of a third party.
Try it now in a few moments, or follow the latest news through the official Socials channels.
Source: https://swap.online
This is a paid press release, which contains forward looking statements, and should be treated as advertising or promotional material. Bitrss.com does not endorse or support this product/service. Bitrss.com is not responsible for or liable for any content, accuracy or quality within the press release.