TheCarPeople.ae
will be another Dubai based business accepting Doge Coin cryptocurrency as payment this summer. This follows last week's announcement that you can now buy real estate in Dubai using Doge Coin. More retailers are starting to accept Doge coin around the world following Elon Musk's announcement that Tesla will no longer accept rival crypto-currency Bitcoin.
Musk made headlines in May, when he tweeted that Tesla, the electric car manufacturing company, would not accept Bitcoin for Tesla purchases. Musk said that the power consumption required to mine Bitcoin, and the negative environmental impact this power consumption caused were incompatible with Tesla. Bitcoin uses a 707KW per hour, per transaction, which is the highest of all crypto-currencies today. For comparison Doge Coin uses just 0.12KWh. Prior to Elon Musk's announcement many people were not aware of the negative environmental impact of Bitcoin.
Doge Coin, Bitcoin and Ethereum are all touted as crypto-currencies expected to go mainstream in the future. However, Bitcoin and Ethereum have been viewed as an investment and a store of wealth (much like Gold acts today) and not a functioning exchangeable currency. The current debate today for crypto currency centre's around 'utility'.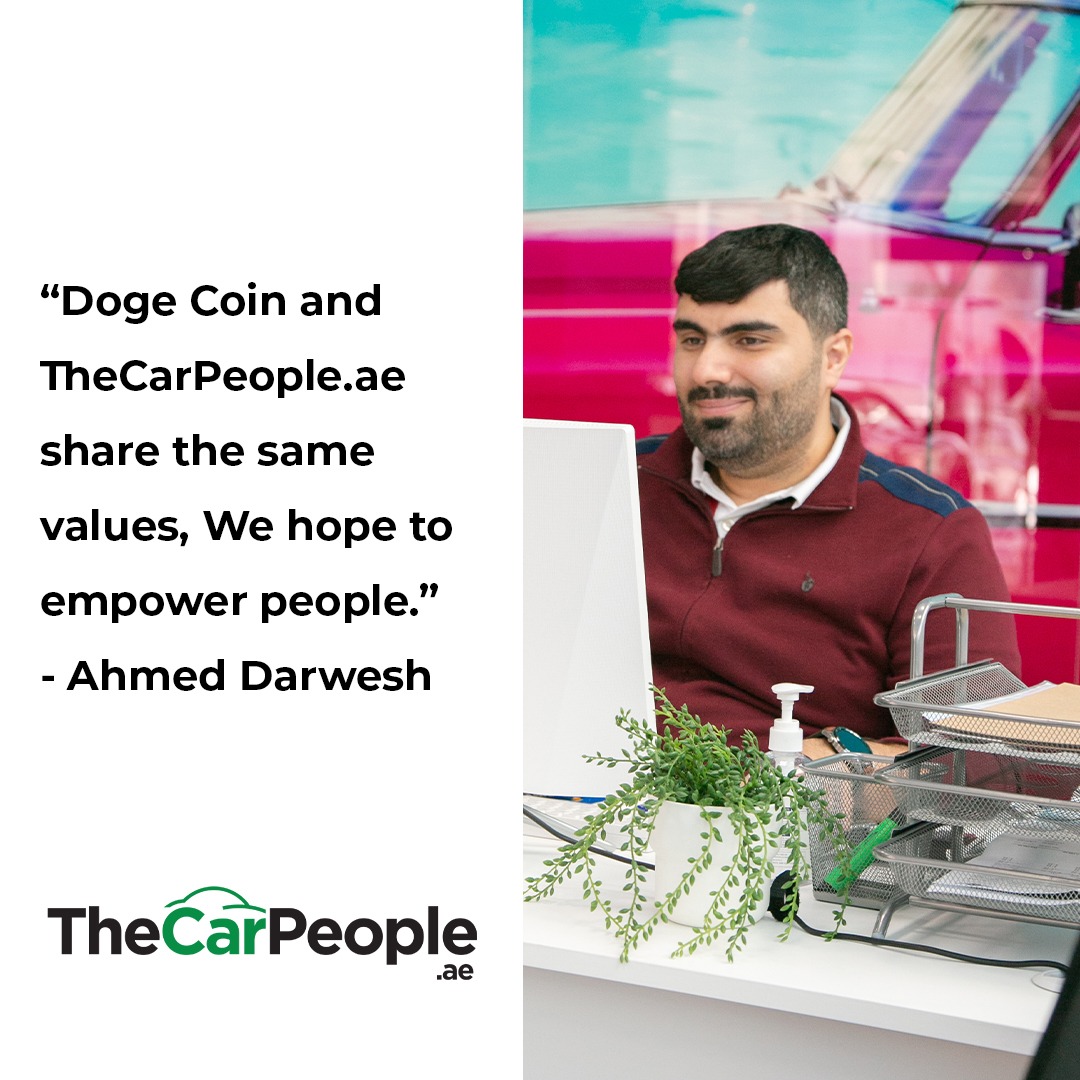 The news that retailers like TheCarPeople.ae will be accepting Doge Coin payments takes another step toward normalizing the exchange of person to person digital currencies. Head of Sales at TheCarPeople.ae, Ahmed Darwesh believes that the complexities in selling and buying day to day items using Doge coin are surmountable.
"We have looked long and hard at the technical issues accepting Doge Coin presents because we don't want this to be seen as marketing fluff.
Incorporating car finance and accounting Doge Coin payments are just a few of the challenges we face. The key now, is that we feel we have enough fluidity between Doge and other currencies to make using Doge Coin an 'ALMOST' seamless experience."
A combination of Elon Musk working with developers on Doge Coin and a focus on the environmental impact of Bitcoin has increased support for this alternative crypto currency. Come August 2021, TheCarPeople.ae will join a substantial list of businesses worldwide formally accepting Doge Coin as a payment option.
This is a paid press release, which contains forward looking statements, and should be treated as advertising or promotional material. Bitrss.com does not endorse or support this product/service. Bitrss.com is not responsible for or liable for any content, accuracy or quality within the press release.