As always in a reality that aims to be the link between reality and virtual, the focus of the question is usually reduced to a few questions; one of them is obviously ... what is the purpose.
And since, in our reality, where there is a market that generates over $ 100,000 a year in trading NFTs the total value of transactions increased by 299% year to year to more than $ 250m you need to be aware of the news.
Today we talk about MAXIMA NFTs and the project to combine the NFT market with the horse industrial chain: it would result in strong exponential growth with enormous impact for everyone in the market.
NFT is primarily acting as a digital collectible form, and is an underestimated investment that is worth the attention from the general public. ERC-1155 allows Maxima to provide fractional shares ownership of horses; each racehorse is tokenized and split into Horse Ownership Tokens. Not only; Maxima includes a variety of social features for users to interact with each other so, all information is transparent and readily available to the public. And on the Roadmap a fully automated, 24 x 7 cross border and secure "Global Racehorse Ownership Trading Exchange" based on blockchain technology is almost ready to go.

Let's better describe what the core of the project is: $MAX Token. Here is some information:

- Token Name: Maxima Token
- Token Symbol: $ MAX
- Token Format: Ethereum ERC20 Standard
- Token Decimal: 18
- Total Supply: 1,000,000,000
- First Sales: Q4 2021
- Token Address: 0x2b3360320f0dffe3bf71b054fd0a7460d0129c51
- Hard cap: $ 20,000,000
- Initial circulating supply: 150 million Max
- Initial market cap: $ 15,000,000
- Fully diluted market cap: $ 100,000,000
Having the scalability of the Ethereum Blockchain, it guarantees a native interchangeability both on the mother platform and on other Exchangers.
$MAX will become the common thread that will allow the exclusive use of all the functions and utilities that Maxima Realworld Racehorse Token offers.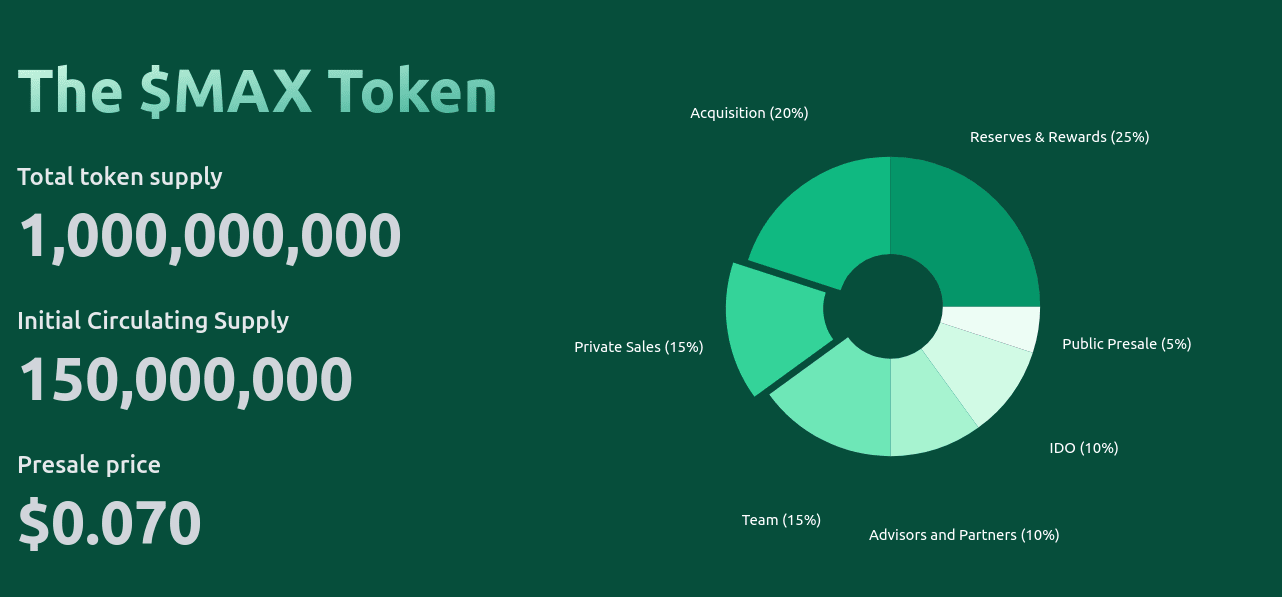 Maxima Token will be distributed to incentivize users to participate in community governance, reward contributors
on the platform and other utility purposes, including platform fees discount. It therefore becomes clear that the upcoming presale, only on invitation whitelist, is an interesting advantage in view of the increased use of the Maxima Ecosystem. The investment bases are interesting and will certainly stimulate the curiosity of investors and collectors.
And how?

Racehorse Collections and Ownership
Users can either buy a single horse entity using ERC-721 standard or buy fractional shares of horses using ERC-1155 token standard.

As NFTs offer an unbreachable leak-proof security layer to confirm the originality of digital assets, Maxima users will have their own unique profile to showcase the horses they currently own, along with their status, price, and more detailed information of their assets.
Maxima Marketplace will provide different features for users to interact with, such as listing their horses for sale, participating in horse management and training, etc. The ownership of NFT horses on Maxima is equal to owning real horse assets.

Claim resale royalties directly on Maxima
All original horse owners who put their horses onto Maxima platform will receive 5% of royalty reward from each onward transaction. The amount of royalty will be significantly higher if the price of horses is traded higher later on.
This will serve as a strong incentive for horse farm owners to participate in Maxima's ecosystem.

Maxima will provides real time price updates for all its horses.
There will be live event updates for different races around the world and Maxima will also partner with broadcasting channels in order to make live streaming of horse races possible on the platform.

Curious?
Was the brief introduction to Maxima ($ MAX) Token and the opportunity to be included in the WhiteList for PreSale enough?
Find out all the details on the official website and social channels!

https://www.maxima.horse
https://twitter.com/MaximaHorse
https://www.instagram.com/maximahorse


This is a paid press release, which contains forward looking statements, and should be treated as advertising or promotional material. BitRss.com does not endorse or support this product/service. BitRss.com is not responsible for or liable for any content, accuracy or quality within the press release.